MATERIALS
Vitreous Glass Mosaic
Vitreous glass mosaic is a smooth, square tile that is available in a wide range of colors, and used for creating detailed images. This glass is easy to cut with a glass cutting wheeled tool, and because it comes in so many shades, it is ideal for blending. It is also available in metallic and iridescent colors, which adds interest and sparkle to any project. It is vitrified and frost proof, which makes it an excellent choice for exterior mosaic murals.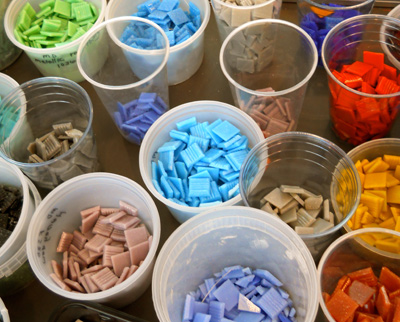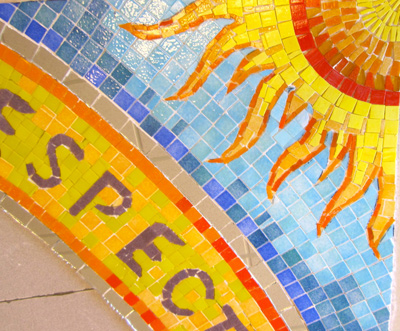 Detail of "Tree of Life Mosaic"
Made from Vitreous Glass

This detail of the sun and lettering demonstrates the beautiful brilliance of vitreous glass. The sun is outlined in orange with quarter tiles, creating contrast of the warm colors of the sun with the cool blues of the sky. The sky is blended from light to dark blue to create a sense of depth.
Glass Smalti
Glass smalti is a traditional Byzantine style glass mosaic shaped in irregular rectangles that are cut from flattened slabs of colored glass. Because smalti tile varies in size and comes in a range of closely shaded colors, it is used for pictorial mosaics that are detailed and blended. It has a subtle beauty that is unique among all the mosaic materials.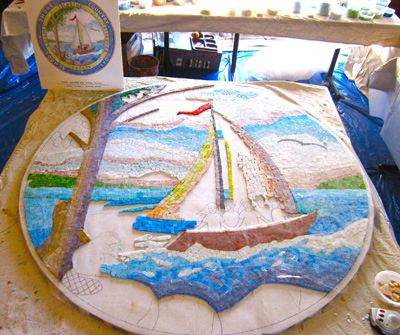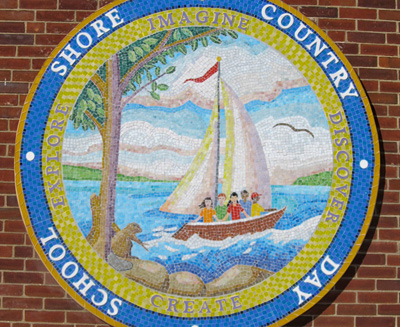 "The Shore Compass Rose"
Made from Glass Smalti

The center circle mosaic of a boat sailing to the horizon was made by Middle School students from Mexican glass smalti. The students built the mosaic on a tabletop using the dry technique, then taped the finished image with adhesive film and transferred it to an exterior panel. The circular borders were made by younger students using vitreous glass in the direct method.
Glazed Ceramic Tiles
Glazed ceramic tile is the workhorse of school and community mosaics. Even the youngest students can crack ceramic tile with a hammer into shards and apply them onto panels or walls using cement. Because the pieces are randomly shaped, they are ideal for using for backgrounds and for filling in large areas. Ceramic tiles can also be cut with a tile nipper tool into a wide range of different forms (like these leaves).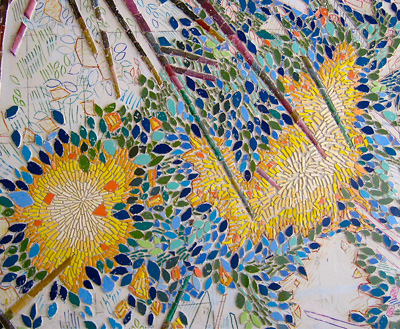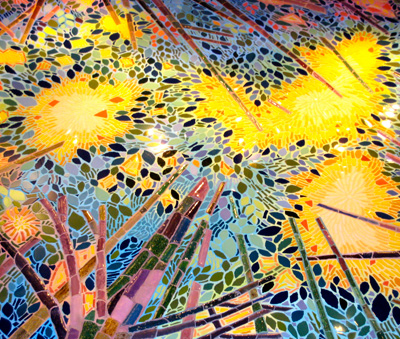 Detail of "Aspire"
Made from Glazed Ceramic Tile

This detail of the forest canopy shows an interesting mix of three mosaic materials: glazed ceramic tile leaves; handmade ceramic tile branches; and colored grout. The leaf tiles create a dappled texture, just as in a real forest. The clay branches create strong compositional lines of perspective leading the eye up to the top of the canopy. The colored grout creates the effect of a golden sky glowing behind the leaves.
Hand Made Tiles
Clay is one of the most versatile of materials for students to use to create beautiful hand made tiles. This image shows a sample of clay fish tiles for the "Jesus and the Fishermen" mosaic. Each student created one fish from a clay slab, sculpting and incising the design with simple tools, then glazed them with luminous transparent glazes.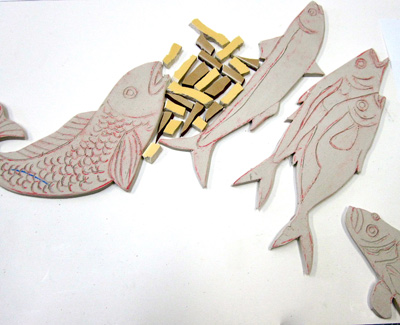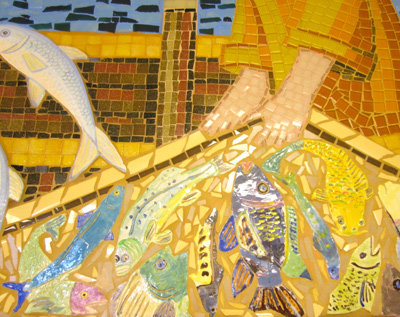 Detail of Net with Fish
From "Jesus and the Fishermen"

The students' fish are brightly colored and lively, and make a strong focal point for the center image of the Apostles' nets bursting with their catch. Having students create their own clay sculptures is one of my favorite ways of incorporating original student art into a large group project.
Mirror
Mirror is always a favorite material. It is easily cut into any shape and size. Mirror's reflectivity adds interest to mosaic murals in so many ways. It can be used to reflect a viewer's face, as in this detail of 'The Dreaming Man' from the 'Imagination and Creativity Mosaic' at the Pike School. It is often used in borders to bring out the edge of the design. It is a material that never fails to fascinate and astonish the viewer!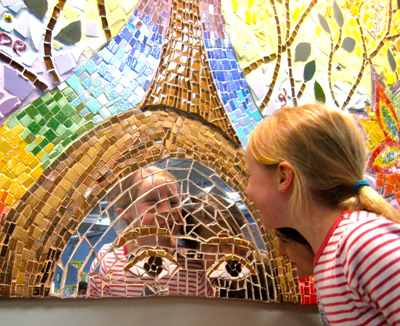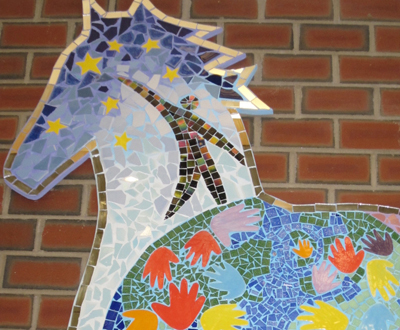 Detail of "The Stanley Stallions"
With a Mirrored Border

This detail shows the use of mirror as a border, which animates the silhouette's edge and brings the horses forms out from the dark tone of the surrounding brick wall. The globe shows how simple hand made clay hands are used as symbols for the world's nations. The sky around the reaching figure is made from cracked ceramic tile with blended colored grout.
Glass Beads
Glass beads come in many sizes, shapes and styles. They are a very useful decorative material and popular with children. Beads can be used in a variety of ways in mosaics. They can be used as jewelry to adorn mosaic portraits (such as necklaces, earrings, headbands and bracelets); as eyes for people and animals; as centers for flowers; as the spots on a ladybug; or the patterns on a turtle's shell.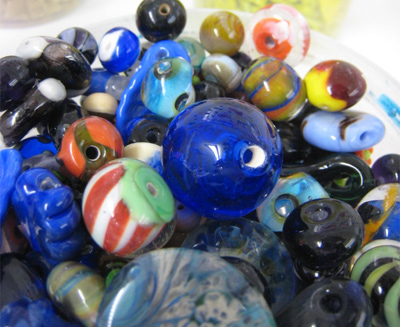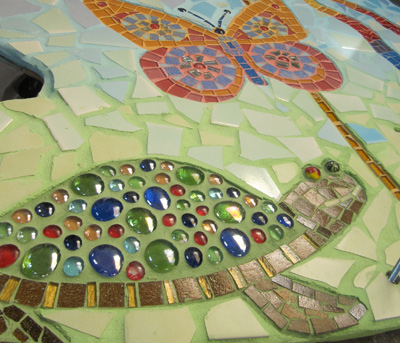 Detail of "The Reading Garden Mosaic" With Glass Beads
Glass beads in many colors are a wonderful material for creating the spots on this turtle's shell. The turtle's eyes are beads. The center of the butterfly's wings are beads as well. This image shows an interesting palette of mosaic materials that work well with young children, including colored grout that blends from green in the grass upwards to blue in the sky.